MOEX GROUP'S FOCUS AREAS: 'GREAT'
GENUINE PARTNERSHIP AND ENGAGEMENT WITH THE COMMUNITY
Performance indicators for 2019, 2020, and 2021 are disclosed in the subsection "Genuine partnership and engagement with the community" of the section "Sustainability Data." Information on major policies, procedures, and responsible departments is given in the subsection "Genuine partnership and engagement with the community" of the section "Sustainability Approaches and Procedures."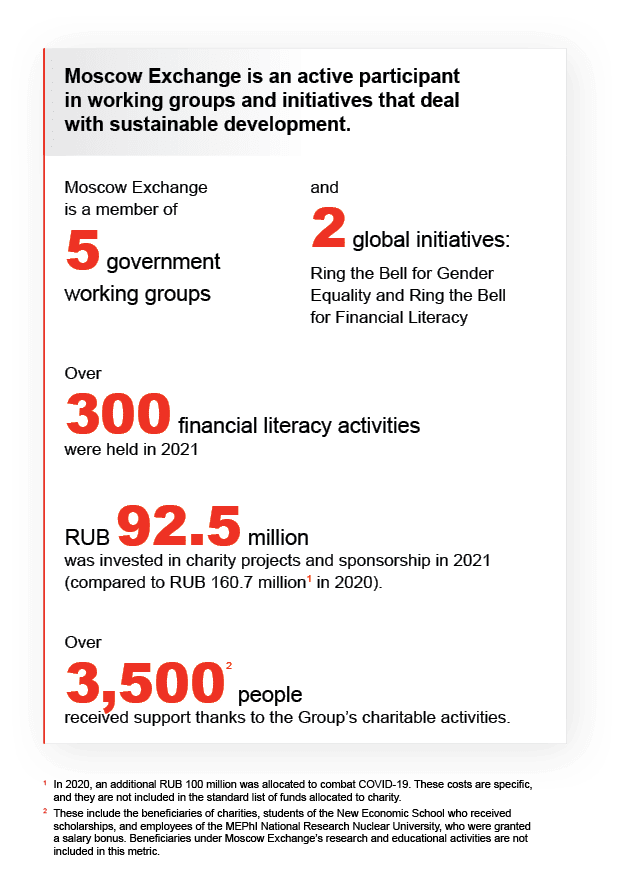 Moscow Exchange Group is cognizant of its responsibility to catalyze positive change in society and create benefits for the public. By uniting financial market participants (novice and professional investors, issuing companies, financial analysts) and other stakeholders, exchanges help mobilize capital, seek out new opportunities for economic growth, and solve global problems. Moscow Exchange helps create social value by supporting charity organizations, children and youth, and wider society.
This subsection describes the Group's major programs, which are aimed at various stakeholders. They include educational and partner projects and charitable and voluntary corporate initiatives. Moscow Exchange Group advocates for financial literacy and strives to support socially vulnerable groups. Throughout its history, it has consistently worked to support its community and taken various actions for the benefit of the market and the public, and to protect the environment.
Major highlights in 2021
Moscow Exchange Group's efforts to improve financial literacy
203-2 413-1
The Group is expanding its involvement in projects to develop the financial market by attracting new participants and improving their financial literacy. Moscow Exchange's educational programs have different formats, and most are designed for novice investors. In 2021, the inflow of retail investors to the Moscow Exchange platform continued. New participants have shown to be especially active in terms of the amount of investment and their share in the total number of deals. Given the high volatility of financial markets, Moscow Exchange's educational initiatives and training activities have taken on considerable social significance.
In the reporting period, over 300 financial literacy improvement activities were held, reaching some 1,031,000 people.
In 2021, Moscow Exchange, together with the Central Bank of Russia and the Association for Financial Literacy Improvement, introduced an educational program for novice investors at the Exchange Forum. It will become a key program of Moscow Exchange for fostering an investment culture in Russia. Educational materials include podcasts, quizzes, video clips, and meetings with professional financial market participants, who will give talks about their experience and work strategies. The program will be based on the standard course "The Investor's Path", while the full course will be available on the Moscow Exchange School's website.
The reporting year also saw further implementation of educational and awareness-raising programs at Moscow Exchange Detailed information is provided in the section "Sustainability Approaches and Procedures." . All programs are constantly being improved based on analyses of students' behavior and their feedback.
In October 2021, Moscow Exchange participated in Ring the Bell for Financial Literacy, an annual initiative. This program comprises unified activities, workshops, and webinars that raise awareness of the importance of financial literacy for people's lives. In 2021, 78 stock exchanges from all over the world joined the initiative.
In the reporting year, an educational course for parents, Financial Literacy for Children, was launched. Its goal is to help parents raise children who are financially literate.
Aside from its own educational programs, in 2021 Moscow Exchange continued its partner projects with the Central Bank of Russia:
Organized the fourth

All-Russian Online Test on Financial Literacy

for the public and the business community. Traditionally, anyone interested can take part in the event, and there is a special category for small and medium-sized enterprises. In the reporting year, there were opportunities for both individual and group participation.

Participated in All-Russian Financial Literacy Week and continued to be an active member of the Expert Board on Financial Literacy under the Central Bank of Russia, as well as in the working groups of the Association for the Development of Financial Literacy.

Participated in the

Literate Investor

project, which provides online financial literacy lessons to adults, students, secondary school pupils, professional educational organizations, orphans and children without parental care. About 1,000 schools joined the project, and over 20,000 pupils attended webinars.

Held the MOEX Home Talks, a series of online meetings where representatives of Moscow Exchange, together with the heads of major companies and other important market figures, discussed the principles of building a business in uncertain economic times, as well as the development prospects of the Russian economy and new opportunities for individual investors. Recordings of the meetings are available on Moscow Exchange's

website

and on its

official YouTube channel

.
Moscow Exchange Group's promotion of gender equality
Moscow Exchange Group believes that pursuing gender equality is necessary to create an inclusive culture within the company and in society at large.
In 2021, as part of the Ring the Bell for Gender Equality initiative, which aims to promote rights and opportunities for women, 104 stock exchanges all over the world, including Moscow Exchange, held activities dedicated to International Women's Day.
Gender equality issues are included in the Sustainable Development Guide for Issuers compiled in 2021. Maintaining sociocultural diversity among personnel is included on the list of recommended ESG initiatives for issuers; the list also recommends analyzing gender equality and equal opportunities as part of the maturity assessment procedure.
Charity and sponsorship
203-1 203-2 413-1
Moscow Exchange's charity activities aim to address important social problems in those areas where it has strong competencies and/or strategic interests. It also sponsors external projects to strengthen relationships with customer groups and the professional and business communities, developing the financial market of the Russian Federation.
In 2021, the Group adopted several new documents governing charity and sponsorship activities: the Moscow Exchange Sponsorship Regulation, the Regulation on the Moscow Exchange Sponsorship Committee, and the Regulation on the National Settlement Depository Charity Commission.
Under the 2022 Action Plan, the Charity Policy and the Regulation on the Charitable Policy Committee were updated and approved. These regulations align with the Group's business priorities and the 2024 Group Strategy.
In 2021, the Group continued its cooperation with a number of charitable foundations and organizations, specifically on projects involving assistance to orphans and children with serious illnesses. Through the National Settlement Depository's collaboration with charitable foundations such as Penetrating the Heart, BELA. Butterfly Children, Volunteers Helping Orphans, Fulfilling Dreams, Podari Zhizn, Wonderland, and Big Change, targeted aid was provided to 10 of these foundations' beneficiaries. Financing was also provided to train volunteers and support the work of childcare professionals and psychologists. At a New Year's charitable event gifts were given to 1,031 children under the care of these foundations.
Funds allocated to the Podari Zhizn foundation were used to purchase 465 medical masks and 50 SARS-CoV-2 antigen tests through. A total of 400 children and young adults received aid.
In cooperation with the Vera Hospice Charity Fund, 568 patients received aid. Furthermore, its hotline for terminally ill people—8 (800) 700 84 36—took 1,492
As of December 2021.
calls from Russia. The Group supported the foundation through regular aid projects:
Dedmorozim Autonomous Nonprofit Organization. The organization provides annual support for 148 orphans and children suffering from terminal illnesses in Perm and the Perm Region.

Some 200 children at the Regional Children's Hospital in Yekaterinburg received aid.

The Blacksmith Lobov House of Mercy. Located in the Yaroslavl Region, this organization provides palliative care for people suffering from terminal illnesses.
Aid was also provided to 43 WWII veterans.
The Group also supported several educational institutions. Salary bonuses were provided to seven individuals working at the MEPhI National Research Nuclear University. The Group also cooperated with the New Economic School in the following ways:
Awarded scholarships; eight students were recipients.

Held joint activities; Anna Obizhayeva, a Moscow Exchange professor, took part in NES Points Online as part of the topic GameStop. The lecture was viewed more than 1,300

As of 1 April 2022.

times. The professor also covered this topic in a column in RBC that was read by over 19,300 people.

Developed the popular science portal GURU at the New Economic School; in January–March 2022, 50 publications in Russian and English were uploaded in various formats. They were viewed

As of 1 April 2022.

over 50,000 times by over 20,000 visitors, 93% of whom were new visitors.

Promoted science education through Economy by Ear audio lectures. Season five's lectures were listened to about 145,000 times

As of 1 April 2022.

.
The Group also held a Donor Day and organized two events (in December and June) to collect gifts for orphanages for New Year's and Children's Day.
Sponsorship budget structure in 2021,
| Areas | % |
| --- | --- |
| Education and science | 49.5 |
| Community engagement | 36.4 |
| Sports and healthy lifestyle | 14.1 |
Charity program structure and coverage in 2021,
| Areas | Donor structure | Cost structure by areas |
| --- | --- | --- |
| Science, education and improvement of the financial literacy of the public | 0.4 | 54.7 |
| Support for veterans | 1.2 | 9.2 |
| Healthcare, rehabilitation, and care for people with disabilities and those affected by COVID-19 | 69.4 | 30.1 |
| Other | 29 | 6 |
In addition to charity support, the Group also sponsors various activities. To better organize its efforts in this area, in 2021 Moscow Exchange approved the Regulation on Sponsorship and Financing of External Projects by Moscow Exchange, as well as the Regulation on the Moscow Exchange Sponsorship Committee.
Interaction with stakeholders
Interaction with the regulatory authorities on sustainable development issues
102-12
In 2021, Moscow Exchange Group participated in five working groups tackling sustainable development issues:
the Central Bank of Russia Working Group on Financial Instruments;

the Central Bank of Russia Working Group on Corporate Governance and Information Disclosure;

the Central Bank of Russia Working Group on Carbon Regulation;

the Interdepartmental Working Group on Development of Investment Activities and Raising Extra-Budgetary Funds for Sustainable Development Projects (chaired by Russian Minister of Economic Development Maxim Reshetnikov);

the Expert Council on Sustainable Development and Green Financing of the Subcommittee for Sustainable Development and Green Financing

The Expert Council was set up to replace the Working Group on Legislative and Regulatory Support for Building a System of Standardization and Verification of Green Financial Instruments (under the Financial Market Committee of the State Duma), which was abolished in September 2021. In 2021, no meetings of the working group were held.

.
The Moscow Exchange Council and user committees
The Moscow Exchange Council is the main permanent consultative and advisory body that oversees interaction with market participants. The Council was created to ensure fair relations between all financial market participants and to improve Moscow Exchange's activities in this area, as well as to seek out a balance of interests between shareholders and customers of Moscow Exchange (traders, financial brokers, investors, end users of exchange services).
In 2021, the Council had 25 members, A list of the members of the Moscow Exchange Council can be found on the website. who were approved by the Moscow Exchange Supervisory Board. Andrey Zvezdochkin, General Director of ATON Investment Company, was elected chairman of the Moscow Exchange Council.
In 2021, the Moscow Exchange Council held four meetings at which 13 issues pertinent to stakeholders were raised, including the level of satisfaction of Moscow Exchange customers (for details, see the 2021 Annual Report, p. 56).
In 2021, the Group calculated its first-ever Customer Satisfaction Index (CSI) by interviewing market participants and customers. The Group interviewed 208 customers, and the resulting score was 8.8 out of 10. This high score attests to the effectiveness of the Group's efforts to improve its interaction with stakeholders.
A working group consisting of Moscow Exchange, the National Settlement Depository, and the National Clearing Center—together with Magram Market Research—developed the methodology and interviewed respondents. The methodology involved sending online questionnaires to a list of the Group's contacts, after which a satisfaction index was calculated based on the customer service scores received. By ascertaining the level of satisfaction and getting customers to rate the importance of individual service components, the Group can determine priority areas to focus on in further developing customer service. Moscow Exchange Group plans to calculate the CSI on an annual basis.
There are 24 user committees operating under Moscow Exchange and the National Settlement Depository. These committees discuss issues that affect all aspects of the exchange's activities, including regulation of public circulation and issuance of securities, corporate governance, technology, and other matters. In 2021, the user committees held over 100 meetings.
International organizations and initiatives

Detailed information on initiatives and partner relationships with international organizations can be found in the section "Sustainability Approaches and Procedures."
102-13
Over the years, the Group has cooperated actively with international financial organizations to study global best practices and share experience.
In 2021, Moscow Exchange actively stepped up its collaborative efforts with foreign exchanges. Aside from its ongoing cooperation with Chinese financial institutions in the Equity, FX, and Bullion Markets, Moscow Exchange also built stronger business relationships with the Qatar Stock Exchange, Tashkent Stock Exchange, and Uzbek Commodity Exchange.
In 2021, an agreement on cooperation with the Qatar Stock Exchange was adopted at the 24th St. Petersburg International Economic Forum to strengthen mutual business ties.
In November 2021, at the 2nd International Financial and Banking Forum of CIS Member States in Tashkent, Uzbekistan, a cooperation agreement was signed with the Tashkent Stock Exchange. This collaboration aims to develop stock exchange tools and open up new markets. Moscow Exchange will also share its experience organizing foreign securities trading. As a joint program, the two exchanges will seek to establish trading links by cross-listing securities included in the trading floors' quotation lists.
In November, Moscow Exchange also signed a memorandum of cooperation with the Uzbek Commodity Exchange. The exchanges also launched a project to trade in non-deliverable forwards for liquefied gas and cement using the Russian trading floor's technologies.
Moscow Exchange Group is a member of the Sustainability Working Group of the World Federation of Exchanges (WFE)

As of 31 December 2021.

. The Group actively participates in discussions on objectives and material aspects of priority areas of sustainable development, as well as on best practices for implementing recommended approaches, in order to make sustainability an integral part of the business.

Moscow Exchange Group also organized an event as part of the international Ring the Bell for Gender Equality initiative.

The Group participates in the UN Sustainable Stock Exchanges (SSE) global initiative, a unified platform for studying how exchanges, in collaboration with investors, companies (issuers), regulators, politicians, and competent international organizations, can improve work practices to increase sustainability and facilitate responsible investing, including financing of the UN Sustainable Development Goals.
Partnership with institutions of higher education
203-1 203-2 413-1
Moscow Exchange Group collaborates with a number of Russian universities on an ongoing basis. It organizes field-specific contests and conferences to develop students' financial market knowledge and skills.
To raise awareness and promote its brand among students, the Group participates annually in career fairs At the following higher educational institutions: the MEPhI National Research Nuclear University, and the New Economic School. . It also publishes job vacancies in such institutions' career groups At the following higher educational institutions: the MEPhI National Research Nuclear University, the New Economic School, Lomonosov Moscow State University, the Financial University, the Higher School of Economics, and the National Research University "Moscow Power Engineering Institute". . In 2021, the Group took part in the I Am a Professional academic competition for students; a "career marathon" was organized for Economics majors, as well as a student conference on financial markets, held in conjunction with the Higher School of Economics A third joint conference, MOEX Progress: Development of the Russian Financial Market, was held on 26 May 2021. .
In 2021, the Group actively promoted cooperation with the IT community by holding specialized meetups, developing IT Community, and participating in the case championship Changellenge IT Cup.
Some activities are held annually as part of Moscow Exchange's cooperation with institutions of higher education. Since 2020, Moscow Exchange Group has been awarding scholarships to students and professors of the New Economic School. Thanks to this support, talented students and teachers can focus on their research work and realize their potential. In 2021, eight students of the New Economic School received scholarships.
Every year, students undergo internships at the Group's companies, with the best interns being offered jobs. In 2021, 14 of the 67 interns were hired.
Moscow Exchange offers three paid internship programs for senior students: MOEX Start, MOEX Study & Work, and MOEX Future Leaders. Students of the Higher School of Economics, the Financial University, and the MEPhI National Research Nuclear University are offered places in practical training and internship programs under contract.

The National Settlement Depository and the National Clearing Center offer paid internships for senior students and graduates of technical and economic universities through two programs: NSD Perspective and NSD Start.
The Novosibirsk Region Governor's Cup for On-exchange Financial Market is held annually for Russian students. The competition offers participants the chance to acquaint themselves with stock exchange tools, try their hand at trading strategies, practice building an investment portfolio, and gain experience investing in financial markets. It includes two stages, and the winners are determined based on the total income they earn from their transactions on financial markets.
The Group holds educational lectures for students. In 2021, a series of lectures on financial markets was given to postgraduate students. Group employees also give lectures and hold seminars on financial risk management at St. Petersburg School of Economics and Management.
Support for political parties and organizations
415-1
Moscow Exchange Group maintains a neutral position when it comes to political and religious activities, but it does not impinge upon its employees' right to choose their own views, nor does it prevent them from pursuing such activities at their own cost and as private individuals. In 2021, the Group did not make any donations to political organizations.
Plans for 2022
Under Moscow Exchange School, a project for individual investors, the Group plans to train 150,000 new investors through the accredited course "The Investor's Path", as well as other courses.