STATEMENT FROM THE CHIEF EXECUTIVE OFFICER
102-14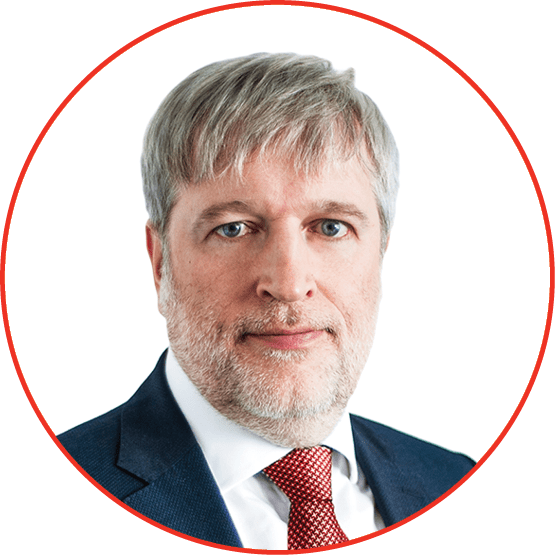 We are issuing our third sustainability report in challenging times, marked by great uncertainty and change in the economy and financial markets. However, we believe it is important to continue our dialogue with investors, issuing companies, regulators, and the general public.
To reaffirm our commitment to sustainability, we would like to acquaint you with some of our accomplishments in this area.
Despite the ongoing hardships caused by the COVID-19 pandemic, in 2021 the global and Russian economies recovered, and capital markets activity bounced back as well. I am proud to say that the Group's strategy has proved to be viable and flexible—without abandoning our sustainability principles. Our key objectives under these circumstances are to promote investment activities, thereby ensuring economic stability in Russia. We also aim to support all financial market players while maintaining people's well-being. Our efforts to expand our services and the range of exchange-traded instruments have been directed precisely at these tasks.
Although the equity capital markets remained volatile, six IPOs and 12 SPOs were still held on Moscow Exchange in 2021, with a value of over RUB 500 billion (+96% on 2020). On top of that, in aggregate, the value of all transactions on all markets of Moscow Exchange exceeded RUB 1 quadrillion for the first time in history.
The influx of private investors to the stock market continued in 2021. We launched Investor's Way, a new training course for novice traders. It sheds light on nuances of navigating the stock market in a concise, comprehensible manner. Over 100,000 people underwent training at the Moscow Exchange School, whose experts created more than 100 training courses. We feel a responsibility for people's future, so we consider financial education to be one of the most socially significant aspects of our sustainability agenda. We want to make sure that the risks taken by investors match their risk profile.
Moscow Exchange's IT systems remained highly available to all participants, with a record-setting 100% uptime in 2021. We also extended trading hours, enhancing the availability and quality of all our services.
As millions of private investors join the market, issuers must pay closer attention to the social and environmental footprint of their activities. In many ways, this trend is shaped by Moscow Exchange. We do our best to adapt international best practices and pass on knowledge to Russian market participants and issuers. In pursuit of these goals, in 2021 our Guide for Issuers: How to Comply with Best Practices in Sustainability was released. It is bound to help Russian issuers align themselves with the ESG agenda.
We create conditions that encourage investors to adhere to responsible investment strategies. In 2021, we stepped up efforts to develop the targeted securities segment (green and social bonds in the Sustainability Sector), giving investors the opportunity to direct their capital to solving real environmental and social problems. As a result, by the end of 2021 over RUB 190 billion in securities were being traded in the segment, which is almost eight times more than in 2020.
For "new economy" companies, including many SMEs and innovative start-ups, getting support to establish themselves is crucial. In this regard, we continued to implement projects in the Growth sector and the Innovation and Investment Sector.
In the Growth sector, the number of SMEs increased (in 2021, 47 bond issues of 28 companies were being traded), and securities worth RUB 7.9 billion were placed. This attests that the indicators set out in the national project Small and Medium-Sized Entrepreneurship and Support for Individual Entrepreneurial Initiatives have been achieved. The volume of securities traded in the Innovation Sector totaled over RUB 300 billion.
In 2021, the Supervisory Board decided that Moscow Exchange should take part in shaping the Russian carbon trading market. The global climate-regulation process remains relevant for Russia, and we intend to be active participants. To this end, we are developing a system for monitoring greenhouse gas emissions by the Group's companies. In 2021, we prepared maps of climate risks and opportunities, which will be used to develop new climate-related projects.
Our report describes our approach to managing our social and environmental footprint and to developing corporate governance. In 2020, we integrated ESG goals and initiatives into the Group's 2024 Strategy. In 2021, we took the next step and came up with a Roadmap for meeting these goals.
One of the key projects on this Roadmap is switching all offices and data centers to green contracts; in 2021, the main offices of Moscow Exchange, the National Clearing Center, and the National Settlement Depository in Moscow already started procuring energy generated at Ulyanovsk Wind Farm 2. In the coming years, Moscow Exchange plans to convert all of its facilities with the highest energy consumption to renewable sources.
In the reporting year, we worked to strengthen the risk management, internal audit, and compliance control systems of the Group's companies. Particular attention was paid to establishing competency centers and transitioning to a flexible office working system. We also developed the Tax Strategy of Moscow Exchange Group.
Adherence to the principles of sustainability helps our companies implement the Group's strategy, allowing us fulfil our role in the Russian economy by ensuring the transparency and stability of financial markets. While we may need to somewhat adjust our initial plans to implement our core ESG initiatives, we intend to keep pursuing them.
I would like to thank our staff, business partners, and all stakeholders for their participation, efforts, and support in 2021. Together, we strengthen the business of Moscow Exchange Group and continue to create long-term value for a wide range of stakeholders.
Yury Denisov
Chief Executive Officer
Public Joint-Stock Company Moscow Exchange MICEX-RTS