MOEX GROUP'S APPROACH TO MATERIALITY
102-49
Determining material topics for the Report is an essential part of preparing non-financial statements as per the GRI Standards. The purpose of this procedure is to study and identify the economic, environmental, and social issues that are most impacted by Moscow Exchange's activities and are most important to stakeholders.
According to established practice, material topics are analyzed annually, and stakeholders are surveyed once every two years. The material topics identified through the stakeholder survey carried out by Moscow Exchange in 2020 apply to this Report as well.
102-46 102-47 102-43
In 2020, Moscow Exchange made a comprehensive assessment of material topics, taking into consideration the opinions of key stakeholders. As a result of this assessment, 16 topics were identified; their significance was then evaluated according to the following criteria:
the significance of Moscow Exchange's impact on economic, environmental and social aspects of the topic in question (the X axis of the matrix of material topics);

the significance of the topic for stakeholders, based on an evaluation of Moscow Exchange's impact on stakeholders' activities (the Y axis of the matrix of material topics);

the availability of recommendations on disclosing such topics from leading associations, such as the World Federation of Exchanges (WFE) and the Sustainable Stock Exchanges (SSE) Initiative, which represent the interests of the professional community of stock exchanges.
Based on this analysis, the Group prepared a list of eight topics that it deemed material and mandatory for disclosure. Information on other topics has also been disclosed selectively.
Matrix of material topics in 2021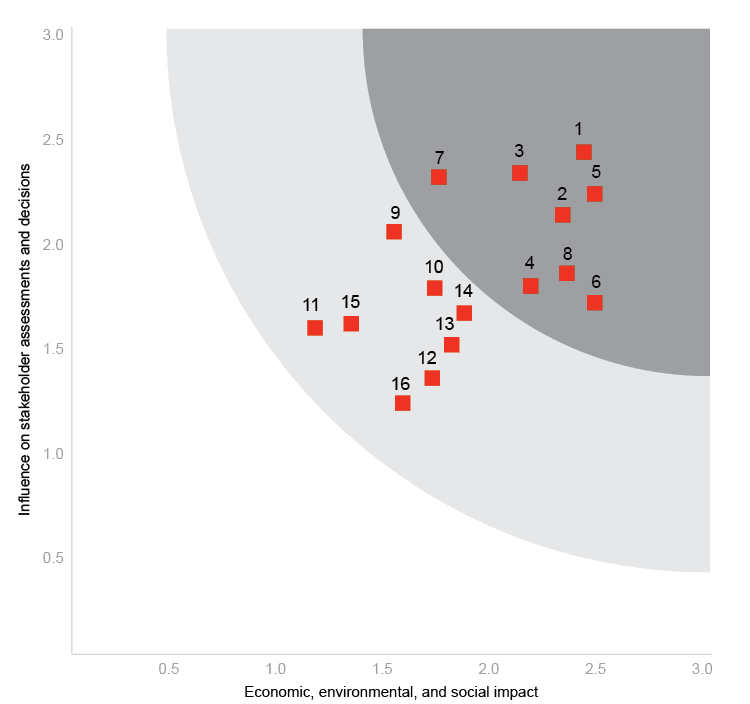 Material topics
GRI

SASB

Improving the quality of ESG information disclosed by issuing companies and raising awareness of sustainable development trends

In accordance with clause 2.5.3 of the section "Disclosure of material topics" of the GRI Standards, due to the absence of thematic indicators for a number of material topics, the approach to management and other applicable details will be disclosed in respect of the following material topics: "Improving the quality of ESG information disclosed by issuing companies and raising awareness of sustainable development trends", "Enhancing the financial literacy of the public", "Development of new financial instruments for responsible investing", and "Development of exchange infrastructure to expand the local investor base".

GRI 103: Management Approach (2016)

FN-EX-410a.3

FN-EX-410a.4

Transparent functioning of markets and development of fair competition

GRI 103: Management Approach (2016)

GRI 206: Anti-competitive Behavior (2016)

FN-EX-410a.3

FN-EX-410a.4

FN-EX-510a.1

Enhancing the financial literacy of the public

GRI 103: Management Approach (2016)

–

Development of new financial instruments for responsible investing

GRI 103: Management Approach (2016)

FN-EX-410a.4

Development of exchange infrastructure to expand the local investor base

GRI 103: Management Approach (2016)

FN-EX-000.A

FN-EX-000.B

FN-EX-410a.2

Participation in working groups and regulatory initiatives

GRI 102: General Disclosures (2016)

GRI 103: Management Approach (2016)

GRI 415: Public Policy (2016)

–

Decent working conditions and development of employee skills

GRI 103: Management Approach (2016)

GRI 202: Market Presence (2016)

GRI 401: Employment (2016)

GRI 402: Labor/Management Relations (2016)

GRI 403: Occupational Health and Safety (2018)

GRI 404: Training and Education (2016)

GRI 405: Diversity and Equal Opportunity (2016)

GRI 406: Non-discrimination (2016)

–

Financial infrastructure support

GRI 102: General Disclosures (2016)

GRI 103: Management Approach (2016)

GRI 418: Customer Privacy (2016)

FN-EX-410a.1

FN-EX-550a.1

FN-EX-550a.2

FN-EX-410a.2

FN-EX-550a.3

Other non-material topics that can be disclosed selectively

Structure of corporate governance

GRI 102: General Disclosures (2016)

GRI 419: Socioeconomic Compliance (2016)

–

Prevention of corruption and money laundering

GRI 205: Anti-corruption (2016)

GRI 415: Public Policy (2016)

FN-EX-510a.1

FN-EX-510a.2

Maintenance of a balanced personnel structure and respect for human rights

GRI 102: General Disclosures (2016)

GRI 401: Employment (2016)

GRI 405: Diversity and Equal Opportunity (2016)

GRI 406: Non-discrimination (2016)

GRI 408: Child Labor (2016)

GRI 409: Forced or Compulsory Labor (2016)

GRI 412: Human Rights Assessment (2016)

–

Access to funding for innovative companies

–

–

Opportunities for growth and access to funding for small and medium-sized enterprises

–

–

Development of a responsible supply chain for MOEX

GRI 204: Procurement Practices (2016)

GRI 408: Child Labor (2016)

GRI 409: Forced or Compulsory Labor (2016)

–

Reduction of negative environmental impact

GRI 302: Energy (2016)

GRI 303: Water and Effluents (2018)

GRI 305: Emissions (2016)

GRI 306: Waste (2020)

GRI 307: Environmental Compliance (2016)

–

Sponsorship and charity

GRI 201: Economic Performance (2016)

GRI 203: Indirect Economic Impacts (2016)

GRI 413: Local Communities (2016)

–