INTEGRATING ESG PRINCIPLES INTO THE 2024 GROUP STRATEGY
MISSION AND PRIORITIES OF THE 2024 STRATEGY
In 2021, Moscow Exchange Group continued to implement its 2024 Group Strategy, which was approved by the Supervisory Board in 2019. The Strategy identifies two areas of responsibility for the Group and three areas of development, which correspond to the Group's mission and vision.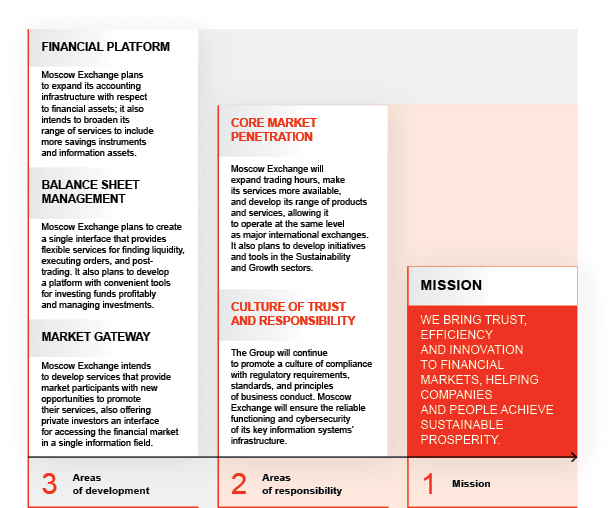 Consistently implementing the 2024 Group Strategy will enable Moscow Exchange Group to increase its customer base, promote the development of financial markets, increase the availability of financial services for issuers and investors, stimulate uptake of best practices, and ensure that Moscow Exchange's business model remains highly efficient and profitable.
In 2021, the 2024 Group Strategy was amended to include new provisions on implementing ESG projects, safeguarding cybersecurity infrastructure, and expanding international activities. These changes did not affect the Group's development priorities. The Group plans to deepen markets by introducing initiatives in the Sustainability and Growth sectors.
The Group realizes that its strategic plans will be impacted by the complex geopolitical situation unfolding in Н1 2022; however, it intends to continue implementing the key projects of its Sustainability Roadmap.
Detailed information on the progress that the Group has made in implementing its 2024 Development Strategy is published in the 2021 Annual Report.