CUSTOMERS AND MARKETS
In 2021, international investors and Russian retail investors were most active on the Equity and Derivatives Markets, while Russian banks and brokerage organizations were most active on other markets.
In the reporting year, private investors' activity reached a historic high: more than two million people executed transactions each month (+136% on 2020). The share of private investors (Russian retail investors) in equity trading reached 40%; in bonds trading the corresponding figure was 10%, in the FX Market — 5%, and in the Derivatives Market — 43%.
102-7 102-6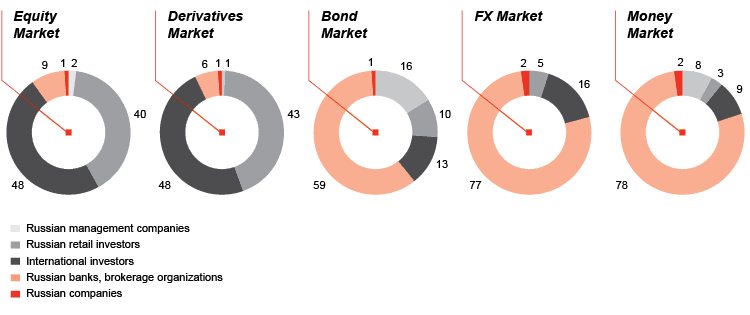 During the reporting period, the public's attention to financial market instruments continued to grow. The number of individuals with brokerage accounts with Moscow Exchange increased by 8 million in 2021, reaching a record 16.8 million people. The number of unique clients in the trading system exceeded 16 million people (about 10% of the population of Russia), of which more than one million are active clients. The number of individual investment accounts increased by 1.5 million, amounting to about 4.9 million accounts.
+91% on 2020